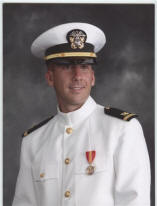 Ryan Petrosky is the son of Mary and Lonnie Bathurst and a 2000 graduate of Litchfield High School. In 2004, he graduated from the University of Illinois with a B.S. Degree in Finance. He then enlisted in the Navy and after serving just under one year as an enlisted sailor, was selected to attend Officer Candidate School. In 2005, he received his commission and then attended the Naval Supply Corps School in Athens Georgia. After training, he spent two years stationed onboard the USS WASP (LHD 1), an amphibious assault ship whose primary mission is transporting marines around the world and based in Norfolk, Va. In May of 2008, he was "loaned" to the Army to serve in Kabul, Afghanistan. Prior to his assignment in Afghanistan, Ryan attended combat training at Ft. Riley, Kansas. While there, Ryan's class was challenged by one of the instructors to share a first-hand account of each soldier's experience with his or her local community so that, one by one, local communities here in the US might have the opportunity to "see and hear" what is going on with the troops in Afghanistan without the filter of the national media. As a fulfillment to that challenge, Ryan is providing these articles to give us a glimpse of his life at Camp Phoenix during his year-long deployment. He welcomes comments and questions at either of his email addresses:
petrogt@hotmail.com
or
ryan.w.petrosky@afghan.swa.army.mil
and promises to do his best to answer everyone who writes to him.